Villa Elbella is located directly on the sea, inside of an extended private area, surrounded by greenery, away from the crowds. Here it dominates the nature, relaxation and tranquility, the background of the unique view to 'Island of Elba.
Only 7 km from Portoferraio (10 minutes by car), 11 km from Porto Azzurro and 10 Km from Capoliveri, overlooking the Gulf of Portoferraio between Bagnaia, Magazzini and Le Grotte.
It 'a single house surrounded by a large garden with lawns and trees ...
3 bedrooms
2 with double bed / 1 with 4 single beds (2 removable ones) / safe /mosquito net / ceiling fan / TV
large living room
living area with big windows with the view towards the golf, wood fire-place, sofas and TV/ lunch area with a table of 8 persons.
2 bathrooms
2 independent bathrooms equipped with shower box, sink, bidet, hairdryer and a washing machine
beach in private area
only 80m from villa, beach of stones and dark sand, direct access to the beach, used even by the guests of the other 3 villas / sunshade and a deck chair
garden 1500sqm
fenced/ spacious lawn / pine trees, palm trees, oleander / aromatic plants / relax zone with shower and sun-lounger
3 terraces
a veranda overlooking the sea with table seats 8 and living area / a veranda overlooking the garden with table 8 seats and barbecue / a veranda overlooking the garden with table 6 places and hammock
2 kitchen
internal kitchen, oven, cooker with 4 gas fire stoves, dishwasher, fridge, kettle, German coffee machine… external: cooker with 2 gas fire stoves, barbecue, fridge
internet and TV
TV SAT, DVD player, BlueRay player, Wii console, WLAN, audio system with USB and Bluetooth
2 parking places
spacious with 2 covered places / night service lights
sport and well-being
snorkelling, windsurf, sailing school, kayak, jogging, golf, tennis, thermal bath with a wellbeing centre
scroll down for more information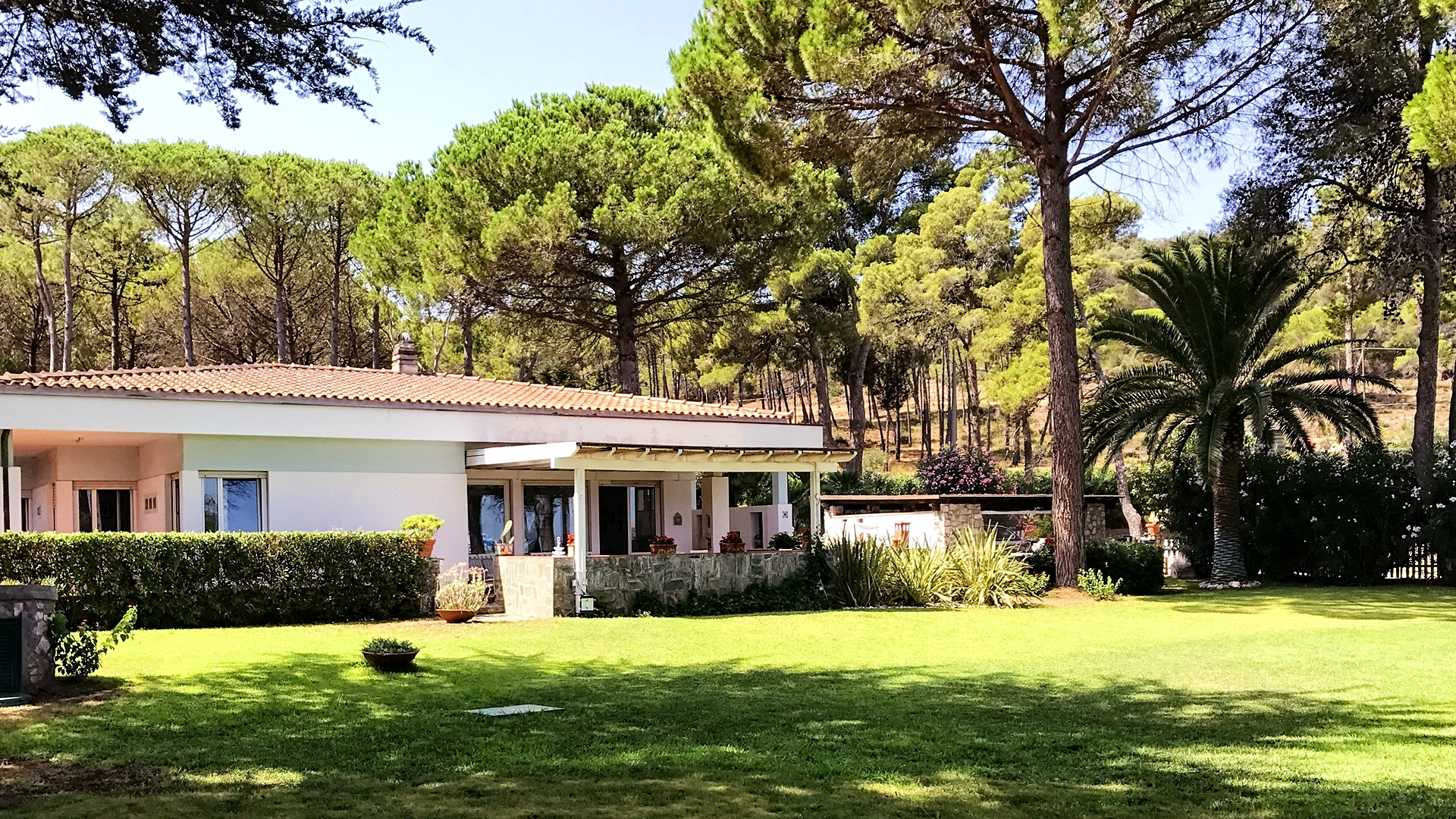 You find yourself directly on the sea, inside a private area, in the middle of the green, far away from the tourist masses. In here dominates the nature, relax and silence on the background of a unique panorama of Isola d'Elba.
You find yourself at 7 km from Portoferraio (10 min drive), 11 km from Porto Azzurro and 10 km from Capoliveri, in front of the golf  of Portoferraio from Bagnaia, Magazzini and the locality Le Grotte.
The North coast has in this part of the isle a mediterranean vegetation, pine woods, some cork trees and eucalyptuses, intervals with vineyards, olives and cultivated fields. The vegetation becomes less towards the sea, whose beaches are of stones and sand.
The deserted beach of over 100m is inside an private area, and is visited only by visitors of the few villas around. A path of 80 m goes from the house to the pear of the private wharf, from here towards West there is a wild lonely beach of stones mixed with dark sand. When the wind blows from the South, the sea is flattened and allows fantastic bathes, snorkelling up to the little rocks 'gli scoglietti' in front of the beach, swimming over mediterranean tape weed, among saddled seabreams, grey mullets, noble pen shells, octopuses and mediterranean rainbow wrasses.
Another particularity of this area of the sea, up to Le Grotte and the bathes terma S.Giovanni, is the presence of thermal waters, therefore you will be surprised of the numerous bubbles of sulphur getting up from the depth.
Even if the place is situated in the North it is one of the less rainy places of the isle.
Thanks to its perfect location You can enjoy the pleasant light breeze of the Mistral which in contrast to the South coast cools down even the hottest summer days.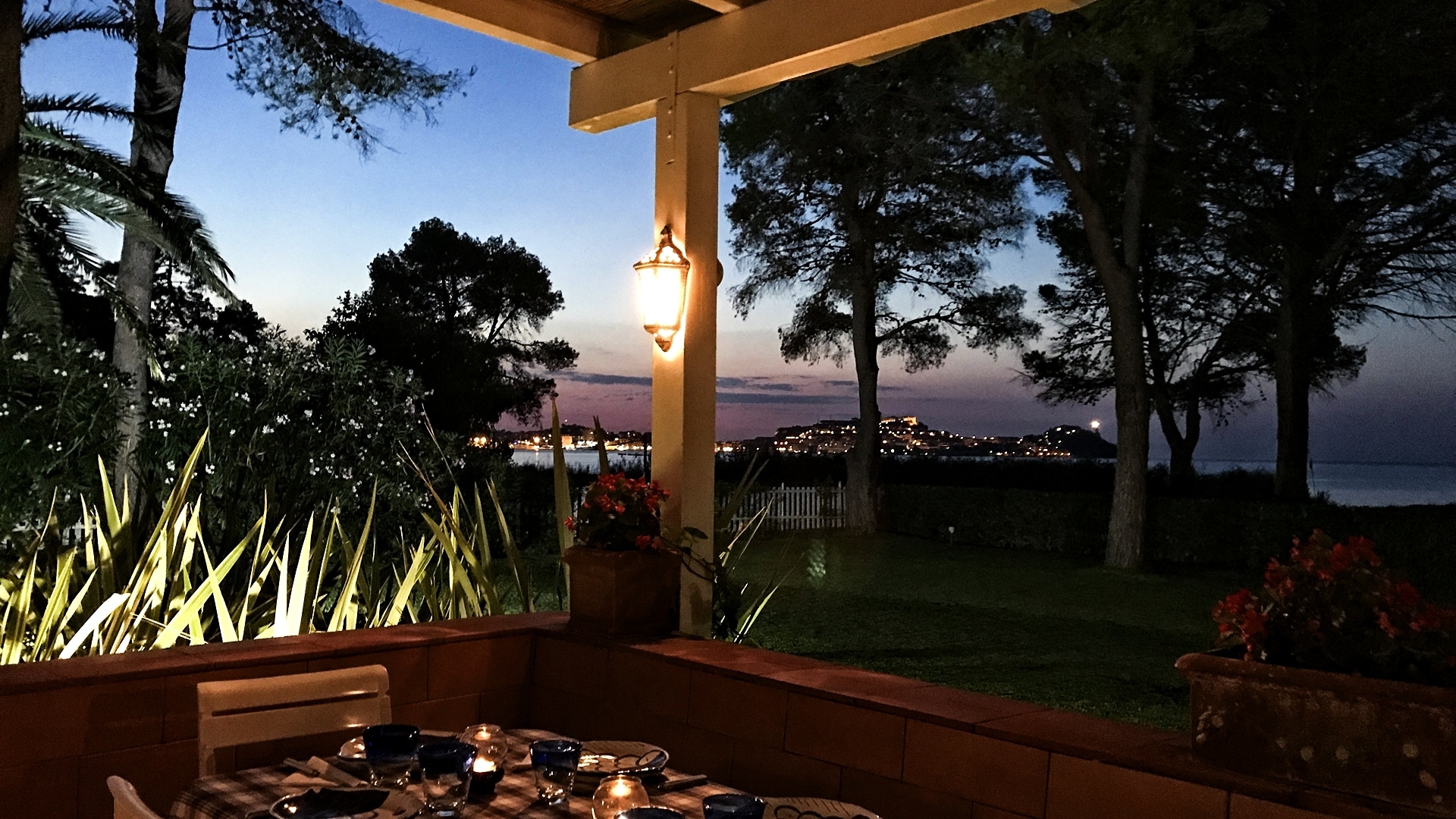 Villa Elbella is a single house of 160 sqm with an extraordinary view towards Portoferraio and his bay, surrounded by a garden with a green lawn and flowers. All the property is fenced for privacy and security.
The villa is elegantly furnished in a combination of Tuscany and Sicilian style.
The rooms
There are three big bedrooms, two double bedrooms and one with four single beds (two removable ones), furnished with style. They are provided with big balancing french windows with mosquito net, from here you reach the common terrace. but which do not compromise your privacy, 
The beds are equipped with special matting to eliminate the harmful electromagnetic fields and to allow a regenerated sleep. The rolling shutters are all motorised. Inside each room there is a flat screen TV with DVB-T and Satellite.
Thanks to the natural coolness at night time which is due to the green around and the cool air from the sea, the nights will be always cool. In fact, for this reason there is no need for an air conditioning, in any case you will find a ceiling fan in each bedroom.
The kitchen
The kitchen is big with a small extendable table in the middle and a rich equipment (look at the list).
It is equipped with two gas fire places, an electric oven, fridge, dishwasher, American coffee machine and kettle.
From the kitchen You can pass the wide door of glass to reach the terrace with the external kitchen.
The living area
There is a spacious living area with a fantastic view towards the golf of Portoferraio.
Thanks to the big glass door which You pass to reach the terrace You will find a unique environment.
The pavement is made of ceramic of De Majo of colours which remind You on the sea of Elba. It is furnished with style combining local handicraft with objects of ceramic realized by prestigious Sicilian craftsmen.
There is a wonderful big table covered with by hand decorated ceramic, which you can use for dinner during the cooler months: spring and autumn.
The relax zone is flooded by light and furnished with wide and comfortable sofas, on the one side you find big glass windows which let you see the sea, on the other side there is fire place.
The living area is equipped with stereo system CD, USB, Bluetooth, with acoustic diffusors and TV LCD (SAT, DVD, Blu Ray) and Wii consol.
The terraces
The house is surrounded by four big terraces.
The sea terrace is made of terracotta of Tuscany and is covered by a white wooden veranda, a spacious place which is surrounded by seats of terracotta provided with comfortable cushions.
You find a living area where you can relax, reading, chatting drinking an aperitif while enjoying the view towards the garden, the sea and the panorama of Portoferraio, which seems to be postcard.
Inside the dining area You can have lunch or enjoying the amazing view in the shade of the veranda, but the most magic time is dinner time admiring the sunset.
The garden terrace is a veranda in Tuscany stile, it has a wonderful lunch zone with a big table decorated with tiles of ceramic which are painted by De Majo. It is equipped with an outdoor kitchen with 2 stoves of gas on a brick base, gas barbecue with Vulcanic stone, a sink of copper and a fridge. This part of the outdoor kitchen which offers a beautiful view towards the garden and its flowers is ideal for breakfast or a barbecue in the evening.
The third terrace is even covered and has a view towards the sea and the pinewood, it is the smallest one with an elegant and big white table, this terrace is often used as relax zone even thanks to the presence of a hammock.
All the verandas are equipped with electrical sockets to allow the use of laptops and cell-phone, while the two big terraces have acoustic diffusors connected with the internal audio system.
The last terrace is an open terrace made brick pavement surrounded by seats and flowers. It is equipped with a shower and two wooden deck chairs. It is here where you can take a shower after a bath inside the sea washing of salt and sand and afterwards having a sun bath in total privacy.
The garden
The house is surrounded by a spacious garden of 1500 sqm which is completely fenced for your security and privacy. The garden is planted with domestic pine trees, palm trees, oleanders, agaves, a lemon tree, and thanks to the summer climate You will enjoy their pleasant smell together with the nearby eucalyptus trees. The garden has a green lawn densely studded with colourful flowers.
But nature is not finishing here because in front of you will admire the sea, around you the pinewood and the small vineyard.
Nature is everywhere even thanks the plenty of birds around and do not wonder if you get a little visit by some animals like pheasants, hares, toads and hedgehogs.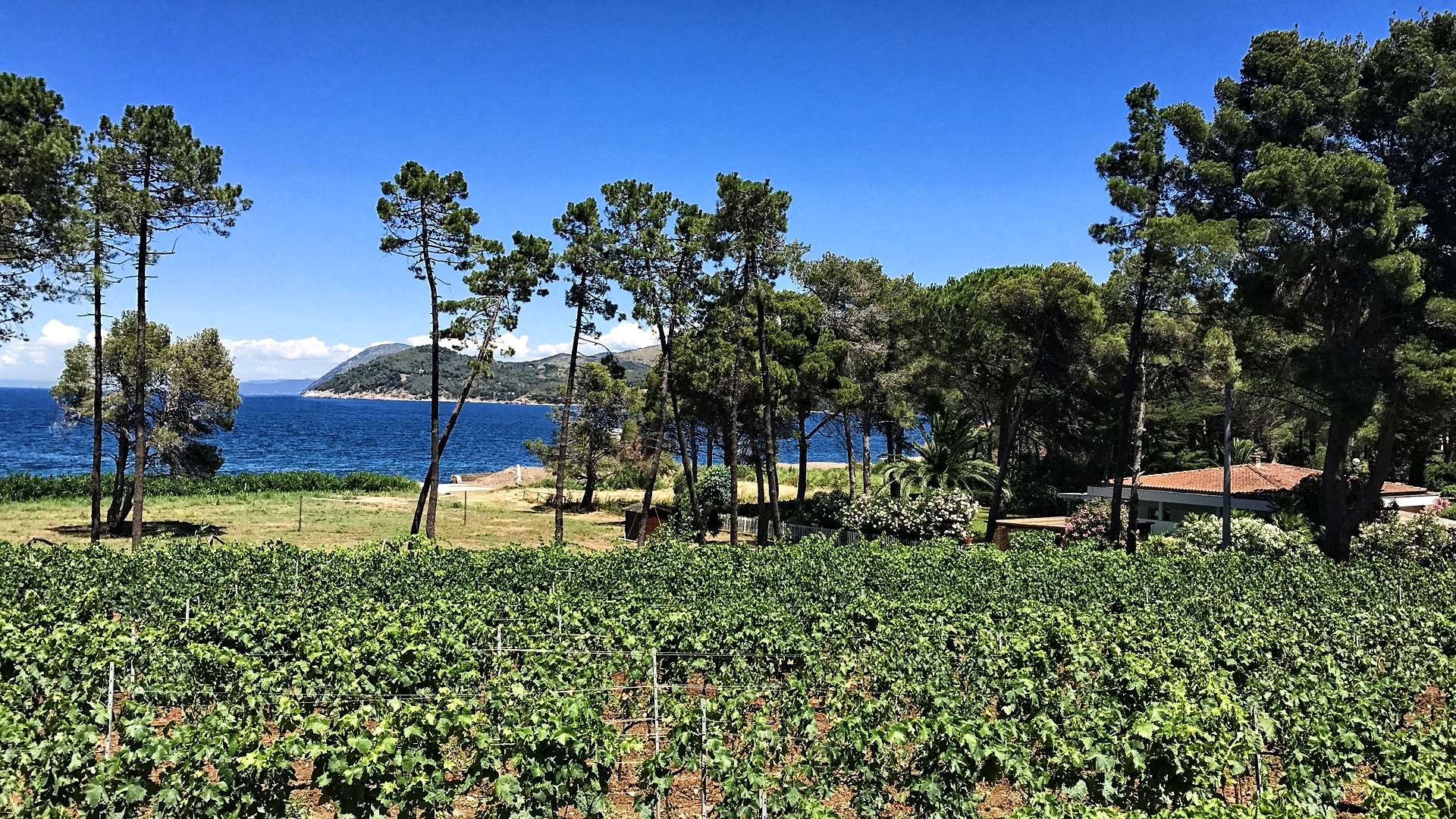 House Facility
Internet access WLAN and broadband
Satellite TV and Wii console for children
heating system and fire-place for the cold season
mosquito net and a ceiling fan in any bedroom
safe in the double bedrooms
2 covered car places
external kitchen with 2 fire places, gas barbecue, fridge, and aromatic plants washing machine, fixed external drying rack and 2 collapsible drying racks
external shower and 2 deck chairs
Supermarket
You can do your shopping at two big supermarkets at Portoferraio (7 km, 10 min drive): Conad and Coop. There is even a smaller supermarket near the house of 3 min drive.
If You would like to buy fresh vegetables and fruits just picked You can visit a farmer of trust. A true farmer who cultivates in an organic way and often picks your vegetables and fruits right there.
For a journal, a magazine or cigarettes You can walk to the nearby bar where you can find a big selection of magazine and journals in other foreign languages. In here You can even acquire some basic food like rolls, milk and the excellent local bread.
Sport and wellbeing
You might already know that the Isola d'Elba offers activity together with relaxation.
Mountain bike, running, trekking, horse riding are some kind of sport You can practise emerged inside the green, there are a lot of centres offering these sports.
For sailing, windsurf and kayak You can visit different schools and rentals near the villa.
There are different sorts of sailing schools around who even offer courses for children and kayak, sailing boats and rubber dinghies rentals.
And if you are a scuba diver You can dive accompanied by professional diving teacher.